More from the Nikkei (February 13) about Softbank; they are targeting 6 million DSL customers by September 2005. Means they will need to gain around 110,000/month from now for the next 20 months. Softbank also said it plans to spend more on sales promotion.
About the broadband outlook generally, fiber subscribers have been growing gradually, and cable subscribers increasingly reasonably steadily. If Softbank's correct in their estimates, I think we can expect to see between 300,000/350,000 new broadband subscribers / month for the rest of this year and most of next.
eAccess remains the number 3 provider with 1.29 million subscribers, behind the NTT group and Yahoo!BB (Softbank). Launched a new 40Mbps service last October that has been popular. Availability is good: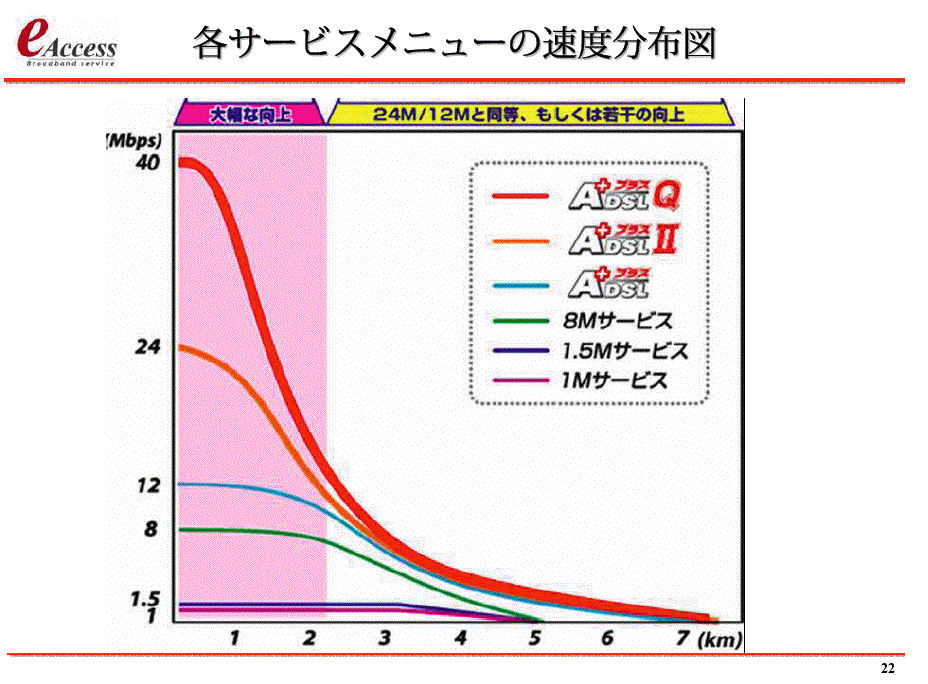 (source: "Financial report for the mid-year period from April 1, 2003 to September 30, 2003" URL http://www.eaccess.net/ir/pdf/semi-annual-report_9-30-2003_final.pdf (Japanese))
Customers more than 2Km from the exchange getting better than 12Mbps. Basic monthly fee is ¥2,880, which I think makes it the cheapest DSL bandwidth anywhere in the world. Last quarter, eAccess revised their earning forecast upward by ¥0.5 billion to ¥1.5 billion for the full 2003 financial year. Higher network utilization resulted in significant decreases in backbone costs per subscriber and lower capex and depreciation.